Our international Clients
open-eye is a german webdevelopment and internet solutions company. Therefore we support international clients as well.
Following a list of our international clients in different countries. For sure these are not all of our clients, you may take a look at our list of our
german clients
- but it is in german language.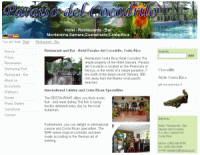 Hotel Paraiso del Cocodrilo
A Content Management Solution for a nice Hotel in Samara, Guanacaste, Costa-Rica.
Typo3 website in three languages: english, spanish and german. Easy content management, search engine optimized URLs and a nice design were the goal of the project. We think we did match it well.
Page Information:
Short Description:
open-eye, Elmar Eigner, Webdevelopment from Berlin, Germany - our Clients
Searchterms:
open-eye, Clients, Elmar Eigner, Berlin, Germany, Webdevelopment and Consulting
Last Modified:
22.03.2017 - 13:11
Page Views:
10.501
Start
·
German Version
·
Sitemap
·
Imprint